I did not expect to find a worthy candidate so soon.
This is the first istallment of an eight part project to upgrade a Moogle Hex fitness bicycle. I hope your find this journey interesting. I make a lot of decisions based upon my personal whims and budget, I'm sure you will find many ways to improve on my tips and methods. I hope you enjoy reading this as much as I enjoy working on bicycles.
---
I am happy to report that I have secured my first bike for restoration. I found it at the third Walmart I visited in my area.
Introducing the Mongoose Hex!
specs
The information below is from the Walmart website:
29" Mongoose Hex Men's Fitness Bike, Matte Blue:
BMX style meets urban style
Frame: aluminum frame for a lightweight, responsive ride
Gearing (# of speeds): Single speed for simplicity and style; 36T/16T gearing
Brakes: front and rear linear pull brakes for sure stops
Wheels/tires: 29" wheels
Seat: padded seat
Pedals: standard pedals
Assembly required
Dimensions: 76"L x 31"W x 39.50"H
bad press
not everyone is a fan of this bicycle. Check out this youtube review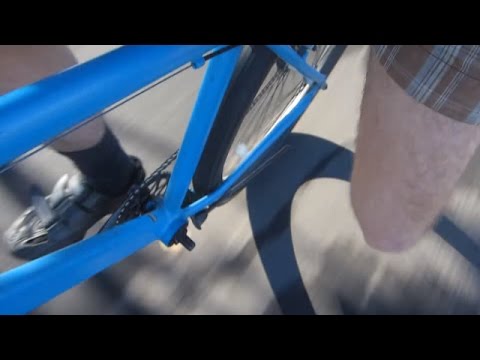 personally, I think the riding with no pedal was more for the sake of "good video" that providing information. From what the internet tells me, most all of these bikes have one peice cranks. That bike has been modified or another version of the one I bought. But the main point is that no one questions any story about bad quality because there are some really poor bikes out there.